About Eveland & Foster, LLC.
No two family law cases are the same. That means good legal counsel can never be based on a cookie-cutter, one-size-fits-all approach. Every client deserves an approach that is tailored to the unique circumstances that make up their case and their goals. Clients that come to Eveland & Foster, LLC. get legal guidance that is both creative and compassionate.
Our goal is to reach an amicable settlement. In divorce matters, there is no winner and no loser, despite popular opinion. The reality is that both parties will have to compromise somewhat in order to reach a global settlement of their case. Our mission is to provide clients with different options and help effectively navigate each one down the appropriate path toward resolution.
The desire for a negotiated outcome can never be at the expense of our client's best interests. We will advocate zealously on behalf of our clients and seek what is best for them and their children. If it takes litigation to achieve those goals, we're prepared to go to court and deliver the kind of vigorous advocacy they deserve.
We understand that family matters are often complex, and emotionally charged and that the ultimate resolution of each case will help determine how our clients begin the next chapter of their lives.
Call Eveland & Foster, LLC. at (973) 841-8856 or reach out here online to set up a consultation.
Known casually as "Jay", Attorney Eveland has focused his entire practice on all aspects of family law, including divorce, alimony, temporary support, child support, child custody, parenting time, adoptions, marital agreements (both prenup and postnup), equitable distribution of assets, post-divorce judgment issues and domestic violence, including Temporary and Final Restraining Orders.
Prior to attending law school, Mr. Eveland earned a Bachelor of Arts in Psychology and Master of Arts in Education from Fairleigh Dickinson University. Mr. Eveland's background in Psychology and Education provides him with a unique insight into family law-related matters.
Mr. Eveland holds his J.D. from Seton Hall University School of Law, from which he graduated in 2007. While attending Seton Hall Law School, Mr. Eveland was named to the Appellate Advocacy Moot Court Board due to his compelling legal writing and oral advocacy skills, an honor bestowed upon a select few students.
It was during law school that Mr. Eveland developed his passion for family law and began assisting clients during their divorce or family-related matters. While attending Seton Hall Law, Mr. Eveland completed a judicial externship for the Honorable Stephan C. Hansbury, Presiding Judge for the Morris County Family Division. During law school, Mr. Eveland also served as an intern at the Association for Children of New Jersey, where he performed legal analysis on issues including adoption and legal guardianship. In his last year of law school, Mr. Eveland served as a student attorney at the university's Family Law Clinic at the Center for Social Justice, representing clients during their family dissolution matters.
Upon graduation from law school, Mr. Eveland served as a judicial law clerk for the Honorable James C. Heimlich, J.S.C. (Ret.), in Union County, Law Division. Following his clerkship, he held associate positions at Budd Larner, PC in Short Hills and Townsend, Tomaio & Newmark, LLC here in Morristown. At both firms, his exclusive focus was family law, and he honed his legal research, advocacy, and aggressive litigation skills.
Due to the complex and emotional process that often accompanies family matters, Mr. Eveland effectively guides clients toward a resolution and toward the next chapter in their lives.
You can call her "Liz", and she offers clients vast experience in all facets of matrimonial and family law including, but not limited to, divorce, child custody and parenting time, alimony and pendente lite support, cohabitation, equitable distribution, drafting of premarital and post-nuptial agreements, post-judgment issues, and adoption.
Attorney Foster-Fernandez attended New York University where she earned her B.A. in international relations, magna cum laude. Like her partner, Mr. Eveland, she went to law school right down the road at Seton Hall University.
It was at Seton Hall that Ms. Foster-Fernandez dedicated herself to public service as part of the Immigration and Human Rights Clinic and through her role as Chair of the Women's Law Forum, earning her the National Association of Women Lawyers Award. During law school, Ms. Foster-Fernandez further worked as a Legal Services of New Jersey Fellow for Partners for Women and Justice, a not-for-profit organization in Montclair, New Jersey for which she has continued to volunteer since obtaining her law degree in 2008.
Ms. Foster-Fernandez began her career in family law immediately following law school, serving as a law clerk to the Honorable James B. Convery, J.S.C. (Ret.), the lead dissolution judge in Essex County from 2008 to 2009. Ms. Foster-Fernandez went on to hold associate positions, first with the law firm of Budd Larner, P.C. and thereafter Ziegler & Zemsky, LLC., where she was regularly confronted with complex divorce issues and developed her skills in handling both uncontested and highly contested cases.
Not only is Ms. Foster-Fernandez experienced in representing clients at the trial level, but she is also well-versed in appellate practice and is esteemed for her compelling brief-writing skills for which she was appointed to both the Appellate Advocacy Moot Court Board and Eugene Gressman Moot Court Board during law school.
Ms. Foster-Fernandez is licensed to practice law in both New Jersey and New York and is a member of the New Jersey Bar Association. Proficient in French, she has spent significant time traveling and studying abroad. She is a long-time resident of Morris County where she resides with her husband and two sons.
Contact Eveland & Foster, LLC. today by either calling (973) 841-8856 or by filling out our online contact form to set up an initial consultation.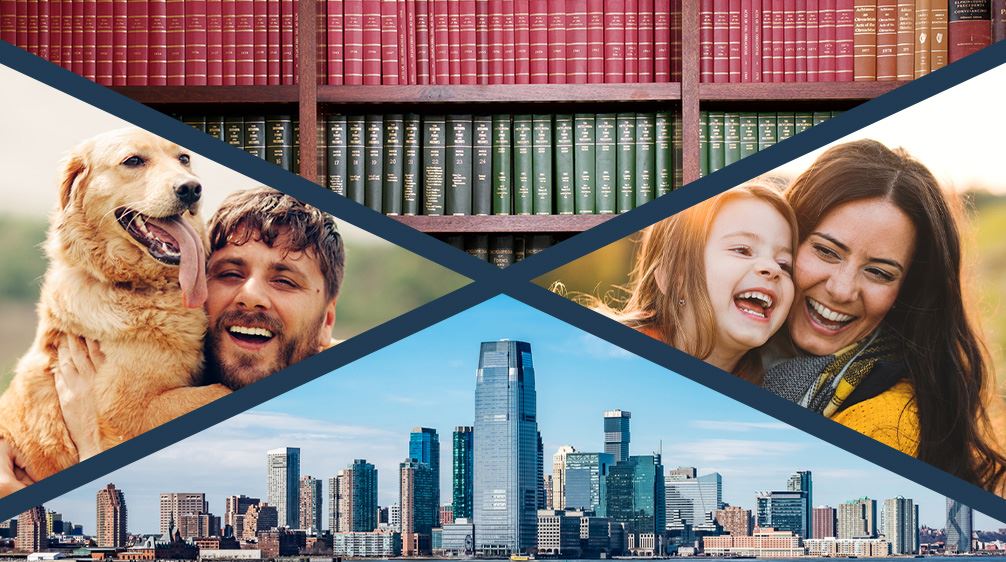 Why Choose Eveland & Foster, LLC?
What Sets Us Apart
With You at Every Step

We know family law can be complex and challenging for all parties involved; we'll be your voice throughout the process.

Strategic & Effective

Our attorneys will use their extensive experience to tailor a custom strategy for your case, working in the best interest of your family.

Compassionate Attorneys

We'll zealously represent you with empathy and help you navigate your family law matter with the care it deserves.
"Incredible to Work With"

Jay and Liz have been incredible to work with. They are aggressive when needed, but supportive and compassionate. I have always felt well-informed about the process and well-advised. They keep very regular and timely communication.

- Stephanie L.