Family Law Services
See How We Can Help You
Morristown Family Law Attorneys
Aggressive Representation for Families in New Jersey
Family law matters can be some of the most emotionally and financially stressful issues to face. When dealing with child custody, child support, divorce, or other family law matters, it is important to have an experienced attorney by your side who can help you pursue your best interests and protect your rights and the rights of your children.
At Eveland & Foster, LLC., we understand the importance of family law matters and are prepared to take on these complex and emotionally charged cases. We have the experience, knowledge, and skills necessary to effectively represent you and your family in pursuing your best interests.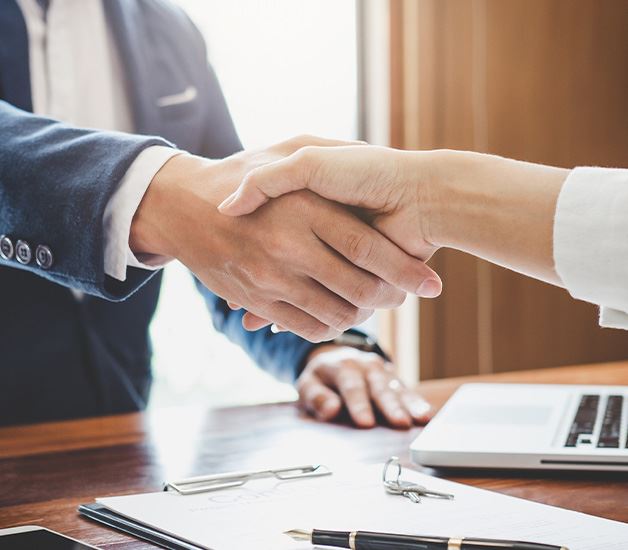 Why Choose Eveland & Foster, LLC?
What Sets Us Apart
With You at Every Step

We know family law can be complex and challenging for all parties involved; we'll be your voice throughout the process.

Strategic & Effective

Our attorneys will use their extensive experience to tailor a custom strategy for your case, working in the best interest of your family.

Compassionate Attorneys

We'll zealously represent you with empathy and help you navigate your family law matter with the care it deserves.
Meet Our Team
Dedicated and Compassionate Family Lawyers
Our experienced attorneys are ready to help your family move forward, and we'll be your voice in the process. Click below to read more about us. Five-Star Client Testimonials
Rave Reviews From Happy Clients
We approach every case with care and compassion; your family is our priority. Read about us in our clients' own words below, or call (973) 841-8856 us today to get started.
"Incredible to Work With"

Jay and Liz have been incredible to work with. They are aggressive when needed, but supportive and compassionate. I have always felt well-informed about the process and well-advised. They keep very regular and timely communication.

- Stephanie L.

"Professional & Responsive"

Eveland & Foster Family Law's legal team is highly professional and responsive. I received incredibly fair, transparent, and helpful advice as we worked through the process. Elizabeth digested complex legal matters for me.

- Kelsey N.

"Exceeded My Expectations"

Jay and Liz are a remarkable team... they will walk you through the process with such ease and are excellent at communicating pertinent information. I felt comfortable working with them from the moment I met them.

- Amita S.

"An Amazing Duo"

They are an amazing duo who helped me be victorious in each matter. They are professional, organized, and most importantly very thorough in their work. If you ever find yourself in such a position, I HIGHLY recommend Eveland & Foster!!

- Kel W.

"Treat You Like Family"

They were absolutely the best, they were caring, understanding, supportive, and fought for me and my children. Great quality service, very professional, and care about their clients well being. Treat you like family.

- Patricia C.

"They Sincerely Care"

Jason and Liz are excellent attorneys with whom I had the pleasure to work. They are bright, conscientious, efficient and vigorously advocate for their clients. They sincerely care about their clients.

- Philip A.

"Compassionate and Understanding"

Jason immediately understood our needs and was very compassionate and understanding. The entire firm at Eveland & Foster worked diligently to handle our needs. Our matter was resolved and we very satisfied with the results.

- Dan K.

"Passionate Advocates"

Jason and Liz are an incredible team that provided me with invaluable advice, information on the law, and support when I just felt like giving up. They are not only experts, but they are passionate advocates for their clients. I trusted them fully.

- Justin W.