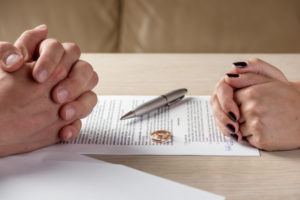 In the United States, getting married is still very much considered to be a rite of passage — although many Americans wait a bit longer to tie the knot. By the time they reach age 50, approximately 90% of people living in Western society decide to walk down the aisle and say "I do." Unfortunately, of course, wedded bliss doesn't always last forever. When couples decide they can no longer try to work things out, separation and divorce may be imminent.
Navigating this process will prove to be extremely challenging for almost anyone. In such an emotional and high-stakes scenario, it's easy to make errors in judgment. But because these mistakes can often make matters worse, it's essential to be proactive about avoiding them. Below, you'll find just a few of the major mistakes your family lawyer will likely advise you to refrain from making.
MISTAKE: Waiting Too Long to File
No one readily wants to admit when their relationship isn't working. It's understandable that you wouldn't want to rush into filing divorce paperwork — nor should you. However, you shouldn't delay filing for divorce if you're certain that this is the right choice for you. Whether you're afraid of your spouse's reaction or believe your divorce will likely be amicable, it won't necessarily behoove you to wait to file. That's especially true if there's any element of domestic violence or abuse, though it's relevant to anyone who feels trapped in an unsatisfying or failed marriage. The sooner you are open to the idea of moving forward with your life, the better off you'll be (particularly if you expect any of your assets to appreciate in the near future).
MISTAKE: Talking About Your Divorce on Social Media
It's natural that you'd want to vent to your friends and family about what you're currently experiencing. In the age of social media, it's never been easier to connect and share. But that's exactly why you shouldn't post about your relationship woes or pending divorce on Facebook, Twitter, or Instagram. Even if you believe your profiles and posts are private, anything you could technically be accessed by your spouse or their family lawyer. That could potentially make your soon-to-be ex less likely to cooperate or even jeopardize your child custody situation. It might look like an easy way to get some deserved sympathy, but you'll fare a lot better if you keep these opinions to yourself.
MISTAKE: Failing to Take an Active Role
Having to deal with divorce proceedings can feel intimidating and overwhelming. But that's no reason to be overly agreeable. While you should certainly be open to compromise and keep your expectations in check, you'll need to balance that with ensuring you'll be taken care of during this process. If you let your spouse make every demand and don't put up any kind of a fight, you'll likely regret it later on. Make sure to discuss options with your family lawyer regularly and to ensure they understand your priorities. Although being active in your divorce proceedings won't be a barrel of laughs, it really is the best way to protect your interests.
MISTAKE: Not Hiring an Experienced Attorney
It would be wonderful if all divorces could be resolved via mediation. While some certainly are, that's just not realistic for all cases. It's also not realistic to believe that you and your spouse will be able to work everything out without hiring divorce attorneys. That's especially true if you two share children or significant assets. If you two can focus on compromising and ensuring decisions are amicable, all the better. But to ensure each party is protected, you should each consult with divorce or family lawyers. Don't be tempted to go the DIY route here. If you don't have someone experienced on your side, you'll be more likely to make costly mistakes.
If you're currently going through a separation or are thinking about filing for divorce, your attorney will be your best resource — and can ensure your rights are protected. For more information, please contact us today.
Disclaimer: This website and information presented are for the purposes of legal marketing and general education. No part of this site should be construed as legal advice. Please consult with an attorney regarding your specific situation. Please do not submit any confidential personal information through this website either by email contact form or chat. No aspect of this advertisement has been approved by the Supreme Court of New Jersey. We welcome your inquiries and offer consultations, however neither contacting our firm nor receiving a consultation establishes an attorney-client relationship.